Yarn Count Converter
Yarn count converter (tex, dtex, den, Nm, NeB), list of conversion formulas and list of textile fibres with abbreviation. A valuable tool for textile experts. Multilingual: English, German, French.
Garn Nummern Umrechner (tex, dtex, den, Nm, NeB), Übersicht Umrechnungsformeln und Aufstellung der Bezeichnungen von Textilfasern mit der offiziellen Abkürzung. Ein nützliches Tool für den Textiltechniker. Mehrsprachig: Englisch, Deutsch, Französisch.
Convertisseur de titre du fil (tex, dtex, den, Nm, NeB), la liste des formules de conversion et la liste des fibres textiles avec abréviation. Un outil précieux pour les experts textiles. Multilingue: anglais, allemand, français.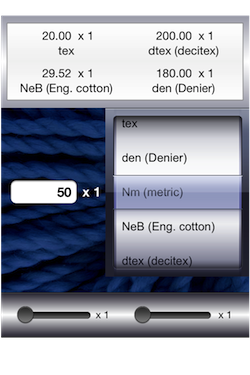 ---
E&Q Notes
Easy & Quick Notes. An exclusive easy-to-use notebook with alarm funktion, sort funktion and code protection. All notes can be grouped into categories. Category name is freely definable. Each category can be marked with a color or symbol (or both). An alarm can be added to each entry, quickly and easily, and, the entry can be added to the iPhone calendar. Multilingual: English, German, French

Easy & Quick Notizblock. Ein exklusiver, einfach und schnell bedienbarer Notizblock mit Alarmfunktion, Sortierfunktion und Codeschutz. Unterteilbar in Kategorien. Kategorie-Name frei definierbar. Jede Kategorie kann mit einer Farbe oder einem Symbol (oder beides) gekennzeichnet werden. Jeder Eintrag kann einfach und schnell mit einem Alarm versehen und dem iPhone Kalender hinzugefügt werden. Mehrsprachig: englisch, deutsch, französisch

Facile et rapide notes. Un exclusif bloc-notes avec fonction d'alarme, fonction de tri et protection du code, rapide et facile à utiliser. Toutes les notes peuvent être regroupés en catégories. Nom de la catégorie est librement définissable. Chaque catégorie peut être marquée avec une couleur ou un symbole (ou les deux). Une alarme peut être ajouté à chaque entrée, rapidement et facilement, et, l'entrée peut être ajoutée au calendrier iPhone. Multilingue: anglais, allemand, français